Aesthetic dermatology
P.L.E.A.S.E.® Professional - a novel, compact fractional aesthetic platform.
A vast amount of topical or invasive (applied through a needle) bio-active agents are used in aesthetic dermatology. The protective properties of the skin often diminish the efficiency, or demand an invasive - and thus, painful - non-homogenous delivery. SMART PORATION™ Therapy using the P.L.E.A.S.E.® Professional device allows delivery of these substance in a more even, painless and particularly efficient manner. Pantec Biosolutions is currently evaluating several applications where microporation of the skin can be used to deliver certain drugs or cosmeceuticals to the right skin layer.
P.L.E.A.S.E.® Professional is also suitable for a range of applications currently addressed by dermatologic or aesthetic medicine treatments, including skin texture improvement, pore size reduction and age spots.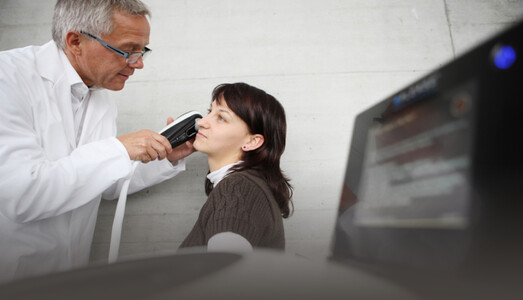 SMART PORATION™ Therapy is a novel approach to increase efficiency by decreasing total treatment time, pain and side effects.
The process starts by using the P.L.E.A.S.E.® Professional device for controlled microporation of the skin. Pre-stored parameters allow the creation of pores that have the right depth for the designated bio-active agent and the desired density for the prescribed dosage. Then the drug, bio-active agent or active-ingredient cosmeceutical is applied to the treated area. The treating physician will determine the right agent based on the patient's condition (personalized medicine). The final step may include occlusion of the treatment zone, which can last for hours but also days.
Currently available bio-active substances can be used to perform SMART PORATION™, however Pantec Biosolutions is partnering with pharmaceutical corporations to market specific agents.