Transdermal delivery
New breakthrough methods to avoid injections.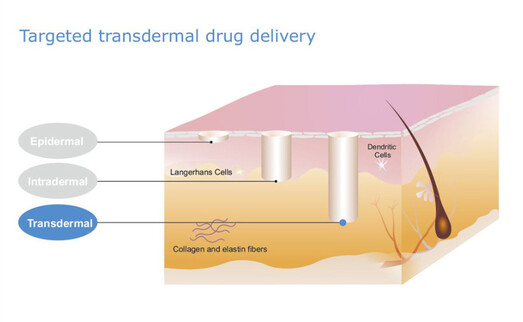 P.L.E.A.S.E.® is Pantec Biosolutions' innovative platform for the transdermal delivery of large molecule drugs. Although transdermal application of drugs is a very powerful administration route, there are still very few patches on the market. The reason for this is that only a few molecules are able to pass the outer skin layers passively to finally reach the blood capillaries in the dermis. The outermost layer, the stratum corneum in particular, provides a strong barrier for molecules larger than 500 Dalton. So pretreating skin with microporation should be a route to effect successful transdermal delivery of larger proteins or other drug molecules.
Pantec Biosolutions' proprietary laser-powered P.L.E.A.S.E.® technology extends the range of drugs that can be delivered transdermally,
allowing for effective transdermal delivery of both low and high molecular weight drugs.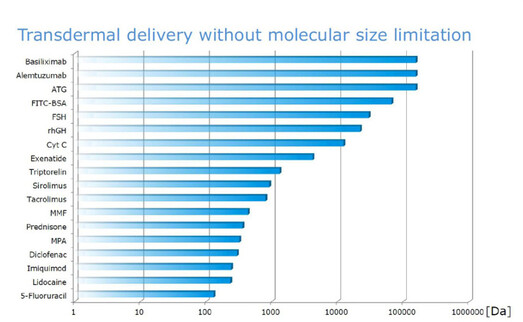 P.L.E.A.S.E.® is the method of choice for the transdermal application of infertility hormones and other large molecular weight drugs due to the following:
Simple and convenient to use by patients and health professionals
Precise, painless and reliable, independent of patient skin condition
Allows control of the drug dose by variation of pores, while drug permeation can be stopped by simply removing the patch
Delivers much more and higher molecular weight drugs than competing technologies
In collaboration with our Centres of Excellence and leading patch development and manufacturing companies, Pantec Biosolutions develops novel topical formulations (e.g. ointments and skin patches) for use with P.L.E.A.S.E.®. We have active programmes in selected therapy areas for improved delivery of small drugs as well as enabling targeted large molecule drug delivery.